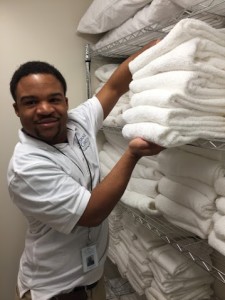 The training programs of EGTI are more affordable than you may think. There are a variety of funding avenues available to prospective students. At EGTI, we strive to provide high-quality, affordable postsecondary vocational training for people with disabilities. Many students receive funding through scholarships, Vocational Rehabilitation and other forms of assistance. So, be sure to investigate your options. We're happy to work with you through that process!
Students are encouraged to meet with a Vocational Rehabilitation counselor as soon as possible to see if they qualify for VR funding. For a list of VR office locations and to find one in your area, please visit: www.in.gov/fssa/files/VRS_Area_Offices.pdf.
Check out our September programming. Some space is still available!
Session 4 — September 19 – November 18, 2016 (9 weeks)
Housekeeping:  Heart of House (Hotel)
Dishroom/Tray Passing/Pots and Pans:  Dietetics (Hospital)
Session 4 — September 19 – December 17, 2016 (13 weeks)
Front Desk Agent (Hotel)
Prep Cook (Restaurant)