You will find EGTI's upcoming events below!
Celebrating Dreams - FUNDRAISER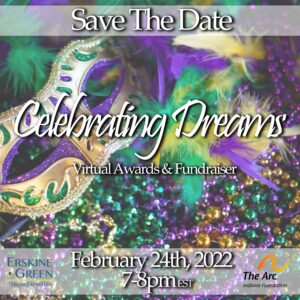 Join us for Erskine Green Training Institute's annual award celebration and fundraiser on February 24th at 7pm EST. Help celebrate the employment dreams of EGTI students that have been realized in the past year, honor the individuals who help make those dreams a reality with our annual awards, and have some Mardi Gras fun!
To register for the event, click "Join Event" to reserve your spot today. Event registration is free. Make sure to click the links on the bottom of the page to purchase your Mardi Gras Party Pack with a King Cake, bid on silent auction items, and purchase 50/50 raffle tickets prior to the event!
---
The proceeds are benefiting Erskine Green Training Institute. EGTI is the first of its kind postsecondary vocational training program for people with disabilities. Opened in 2016, EGTI provides training in hospitality, food service, healthcare, and inventory distribution.
The program provides a uniquely personalized training experience for each student. During the 10 – 13 week training sessions, students attend class, master key job skills, and gain valuable work experience through an internship.
In addition to hands-on job training, the curriculum addresses critical soft skills like appropriate workplace etiquette, teamwork, taking direction, and effective communication skills.
2022 EGTI Alumni Event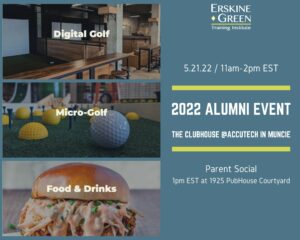 2022 EGTI Alumni Event
Saturday, May 21, 2022
11am-2pm EST
Registration Deadline – May 20, 2022
The 2022 EGTI Alumni Event will take place at The Clubhouse @accutech located downtown Muncie (115 S. Walnut St., Muncie, IN 47305). This is located directly across the street from The Barking Cow.
The $45 registration fee will help cover the overall cost to rent the space. There is a restaurant within The Clubhouse, so please bring money for lunch. We will send out the restaurant menu closer to the event date.
Do you have EGTI apparel? If so, please wear it. We would love to get a group picture in our EGTI swag. If you're looking to get a new piece of apparel, you can view EGTI's online merchandise store here – https://www.erskinegreeninstitute.org/about-us/order-merchandise/.
There will be a parent social at 1pm EST at the 1925 PubHouse located within the hotel. We would love to catch up with parents and provide an opportunity for parents to connect with other parents.
Event Registration – http://interland3.donorperfect.net/weblink/WebLink.aspx?name=E334333&id=91&FromAdminLink=true