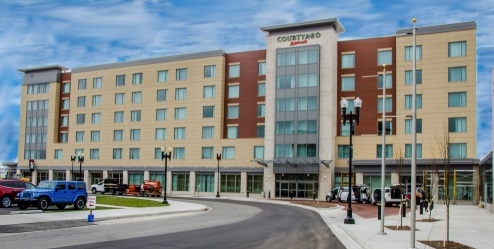 The Arc of Indiana, a statewide advocacy organization for people with disabilities, strives to empower people and inspire change in many ways. One of those ways is through The Arc of Indiana Foundation which exists to create postsecondary training opportunities for people with disabilities that empower and lead to meaningful employment through its program, Erskine Green Training Institute. After receiving training at EGTI, students apply those skills through internships at the Courtyard Muncie and Thr3e Wise Men Brewing Co., developed by our for-profit, Arc Innovation, and at IU Health Ball Memorial Hospital.
EGTI's programming is designed for individuals whose academic, social, communication and adaptive skills are affected due to a disability. Most applicants would have received special education services in the K-12 setting and exited their secondary school with a diploma, GED or certificate of completion. EGTI is a certificate program (not an accredited college degree program). Participants may also earn additional industry recognized certifications depending upon the program selected.
Our Purpose
According to the U.S. Bureau of Labor Statistics in 2013, unemployment among individuals with disabilities was 82%.  In the absence of employment, individuals with disabilities are forced to seek public assistance to survive.  Hospitality is the world's fastest growing industry, according to a study conducted by Eastern Michigan University.  EGTI and the teaching hotel is Indiana's first statewide hospitality training center for individuals with disabilities.
Watch a Video About Our Mission
EGTI's primary goal is to provide postsecondary vocational training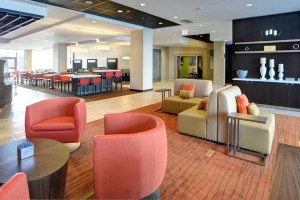 opportunities that successfully prepares individuals with disabilities for employment in the hospitality, food service and healthcare support industries. EGTI trains and the hotel employs individuals with disabilities throughout the hotel and its restaurants in various capacities.
The project provides a resource for Indiana businesses to successfully hire and maintain employees with disabilities.
The Courtyard Muncie is a 150 room property in downtown Muncie, Indiana with two restaurants and an adjacent parking garage.
The hotel is operated for profit. Profits are used to support EGTI and other initiatives of The Arc of Indiana.  Approximately 20% or greater of the jobs within the hotel and its restaurants are held by individuals with disabilities. EGTI and the hotel are next to the Horizon Convention Center.
Positive Outcomes
The hotel is lowering Indiana's unemployment rate and generating new tax revenues.
EGTI provides a well-trained workforce for employment in the healthcare and hospitality industries in communities throughout Indiana.
The project serves as an economic development model demonstrating the strength and benefit of private and public investments.
EGTI and the hotel is setting the standard for the future development of similar projects.
The project provides a positive economic impact for the City of Muncie through additional property taxes and increased convention and tourism business.
The project creates additional tourism and hospitality employment opportunities for Muncie.