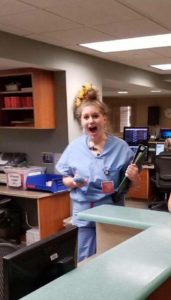 This EGTI alumna has marked off a few goals: employment and living independently!
After graduating EGTI, Taylor accepted a Patient Transport job at IU Health Ball Memorial Hospital and moved into her own house.
EGTI staff get to see her in action regularly at the hospital, and she's doing fantastic! The picture on the left is when staff ran into her on her first official shift!
EGTI staff are all extremely proud of you, Taylor!