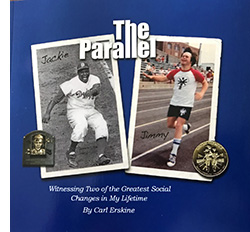 Carl Erskine's book, The Parallel, reprinted and updated with a new chapter about EGTI, is now available for purchase with proceeds from its sale to benefit EGTI. Books are available for $20 at the Courtyard Muncie at Horizon Convention Center Hotel, at The Arc of Indiana office or for $25 online (includes shipping) at Buy Carl Erskine's Book Today.
Erskine was also recently recognized by The Arc of Indiana with a Lifetime Achievement award for his dedication to Hoosiers with disabilities.
As Jackie Robinson's teammate and father of Jimmy Erskine, who was born in 1960 with Down syndrome, Dodger great Carl Erskine was a firsthand witness to "two of the greatest social changes in my lifetime."
Jackie Robinson was a pioneer in proving that people of color belonged in professional sports.  Much in the same way, Jimmy Erskine and his family helped to change the perception of and opportunities for people with intellectual disabilities.
The Parallel, written by Carl Erskine, reflects on his experiences playing with Jackie Robinson and raising a son with Down syndrome:
"My nine seasons as a teammate and friend of Jackie Robinson gave me
a close-up experience watching this super talented black athlete beat segregation.
And then in the same lifetime experience a parallel journey with my son,
Jimmy, born with Down syndrome who would face
prejudice, exclusion and rejection similar in many ways to Jackie's."
For baseball fans, The Parallel includes historic photos of Carl and Jackie Robinson's days with the Dodgers. For people everywhere, the book shares family photos of the Erskines and the story of how they became leading advocates for people with disabilities.
Carl has dedicated this new edition of The Parallel to benefit the Erskine Green Training Institute (EGTI).