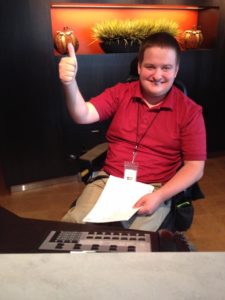 At the beginning of each training program, students receive instruction on topics within health and wellness. This content prepares students with the necessary knowledge to be safe and healthy during their time at EGTI. During this time students are also trained on how to use Muncie Indiana Transit System (MITS) to allow them access to the Muncie community. More information about MITS can be found under Community Engagement – Transportation. All training programs have been broken down into sequential units that are individually taught during classroom time. Once students have shown proficiency in a unit,  job-shadowing and hands-on opportunities are scheduled for those skills. Skills build upon one another until students have mastered the entire job. At this point, internships begin. Students train and intern in either the hotel, Thr3e Wise Men Brewing Co., or IU Health Ball Memorial Hospital while completing their program.
Internship hours and work readiness skills are the focus during the last month of each training session. Classroom time is scheduled around internship hours. Work readiness topics include a variety of job search, acquisition and retention skills, and interpersonal and personal quality skills necessary for employment. No more than 20 students are accepted in any session.
Daily Schedule
When students are at the introduction level of their training program, a day begins at 8 a.m. and ends at 3:30 p.m. Throughout this time, classroom instruction and activities occur along with built-in breaks and lunch.  As students move further along in the content of their training program, job shadowing and hands-on opportunities are scheduled into their day. These may occur at any time throughout the day or evening to allow each student the opportunity to job shadow and practice the skill or set of skills being taught at that time.
Internship
Once students have completed the main coursework related to their training program, they begin an internship. Internships may occur during the morning, afternoon or evening.  EGTI staff train, support and oversee students during their internships. If staff feel a student needs re-teaching in a specific area of the job, additional classroom time is scheduled to allow for review and practice.