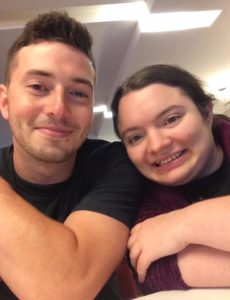 Two staff will be on duty during evenings and weekends and one overnight staff. These individuals will be responsible for overseeing and supporting all students. If more individualized support is needed, students should access resources through Medicaid Insurance or their Medicaid Waiver (Indiana residents only): Family Supports Waiver, Community Integration and Habilitation Waiver, Aged and Disabled Waiver, and TBI Waiver.
If the student receives services through Medicaid Insurance or a Medicaid Waiver – from a service provider outside of Delaware County – please contact your case manager or Medicaid case worker upon acceptance into EGTI. A service provider serving individuals in Delaware County must be chosen while the student attends EGTI.
Medications, Illnesses and Emergencies
Upon acceptance into EGTI, students or guardians are required to fill out an Insurance and Medical Information Form. This will provide EGTI staff with important information in the event of a medical emergency.
A health station within EGTI will be staffed with a part-time nurse Monday – Friday on an as
needed basis. The nurse will consult with EGTI staff on student ailments and provide guidance
on care needed.
Students are expected to independently manage medications; however, the nurse will work with
EGTI staff to complete weekly medication checks. If medications are not being taken or refills
are needed, the nurse or EGTI staff will communicate with the student or guardian to determine
a plan. If possible, we ask that students bring enough medication to last the entire training
session to avoid arranging refills. If this is not an option, please communicate when the
medication needs to be called in on the Insurance and Medical Information Form so staff can
assist in ensuring this is done.
Should a student contract an illness during his/her time at EGTI, the nurse will consult with EGTI
staff on recommendations for the student. Arrangements to make and attend a doctor's
appointment will be the responsibility of the student or guardian. In the event of a medical
emergency, the student will be transported to the closest hospital or the hospital listed on the
Insurance and Medical Information Form.
Pharmacies in Muncie
| | | | |
| --- | --- | --- | --- |
| Name | Address | Phone Number | Hours |
| Walmart Pharmacy | 4801 W Clara Ln | (765) 284-3750 | open until 9:00 PM |
| Walmart Pharmacy | 1501 E 29th St | (765) 282-0578 | open until 9:00 PM |
| Meijer Pharmacy | 6260 W McGalliard Rd | (765) 281-7810 | open until 9:00 PM |
| Walgreens | 2720 W Jackson St | (765) 287-8533 | open 24 hours |
| CVS Pharmacy | 3310 E Jackson St | (765) 286-0933 | open until 7:00 PM |
| CVS Pharmacy | 201 S Tillotson Ave | (765) 287-0074 | open until 7:00 PM |
| CVS Pharmacy | 425 E Memorial Dr | (765) 288-2157 | open until 10:00 PM |
| CVS Pharmacy | 415 E McGalliard Rd | (765) 288-7336 | open until 10:00 PM |
| Walgreens | 400 E Memorial Dr | (765) 284-3933 | open until 10:00 PM |
| Walgreens | 100 E McGalliard Rd | (765) 288- 6171 | open until 12:00 AM |
| Marsh Supermarket | 715 S Tillotson Ave | (765) 213-1200 | open until 12:00 AM |
| Target Pharmacy | 3601 N Barr St | (765) 254-9084 | open until 7:00 PM |